Help For Cancer Patients
All of the services and patient programs we offer are aimed at alleviating the unique difficulties or disadvantages faced by breast cancer patients and their families.
We provide a variety of free support services to cancer patients and their families such as;
Counselling services for breast cancer patients and their families
Hairdressing & house cleaning
Food deliveries & hampers
Breast Cancer resources & information
Plus so much more…
Breast Cancer Resources
August 18, 2020
Foodbank Queensland and Be Uplifted Inc Breast Cancer Charity partner on some charity projects throughout the year.  We love all the hard work and the practical ways Foodbank Queensland supports and helps local Brisbane family's and our breast cancer recipients. […]
Help Us to Help Others
So many ways to support us
Our motto "People not Research" reflects Be Uplifted Inc's values of supporting the women, men and their families who have had their world turned upside down a breast cancer diagnosis.
To meet the growing demand we have expanded our patient support services to include six local hospitals in Brisbane.
If you would like to offer a helping hand, there are so many ways to support us.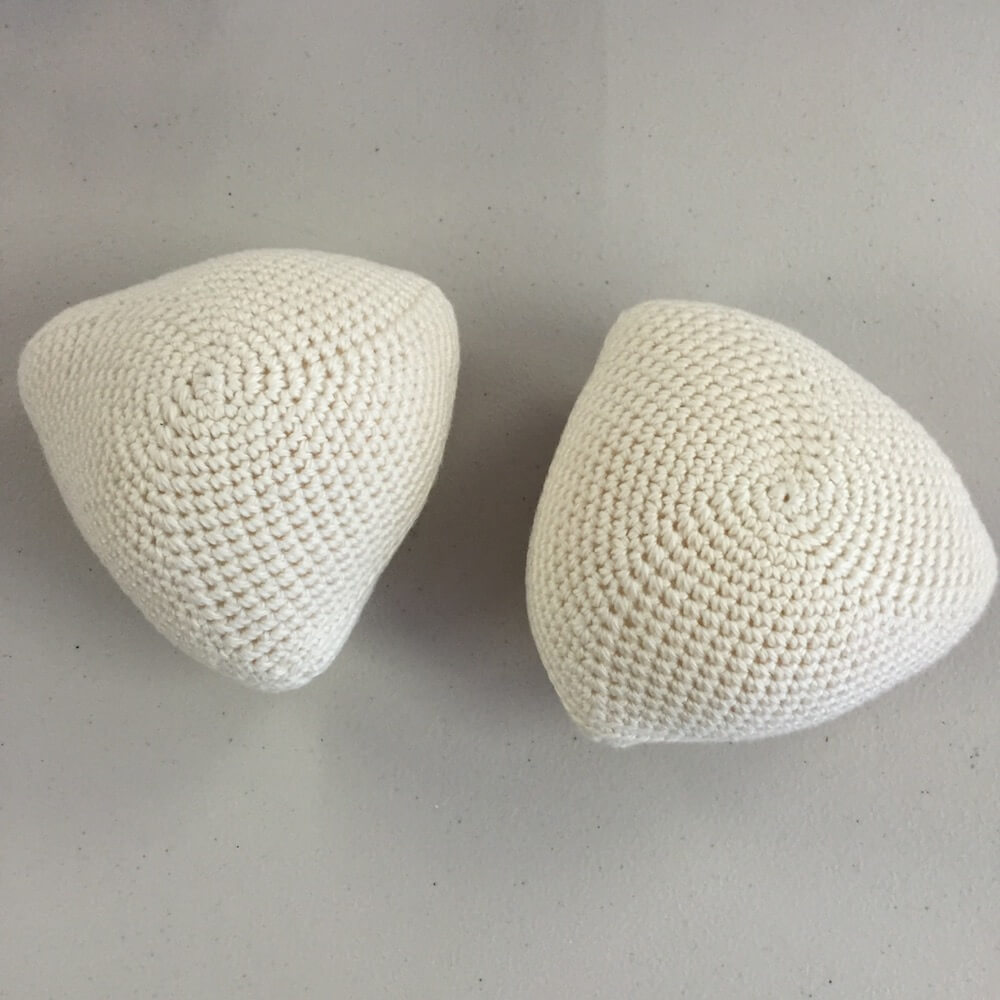 Free Crocheted Knockers Pattern
Be Uplifted Inc volunteers create free crocheted breast prostheses in a cup sizes A to DD.
Our Crotched Knockers are a soft and lightweight alternative to silicone prosthesis. They may be used as temporary prostheses while scars are healing or permanently by women who opt not to undergo breast reconstruction and cannot afford expensive permanent silicone prostheses.
Our Values
Our motto "People not Research" reflects our charities' values. All donations Be Uplifted Inc receives go directly to making a difference in the lives of local Brisbane breast cancer patients.
Our nonprofit charity organisation is staffed by volunteers. We use every donation to help pay for practical and essential support services breast cancer patients need during treatment including medications, medical tests, food, electricity and phone bills, so that families can still be in touch and supportive even if it's from a long distance.
What people say about Be Uplifted Inc
My sister rang me to say she received your beautiful care basket - it was a wonderful surprise for her. It was so nice to hear the happiness and excitement in her voice. Your charity is the first to help and is appreciated more than you know.

I was taken back by your generous heart, I was certainly not expecting such gifts. The words thank you do not seem worthy enough. I see the heart in every item packed with such love and thoughtfulness.

"Thank you so much Wendy for all of your care and kindness. You offer an incredible service and it honestly makes such a difference to our patients".

My lovely daughter in law passed away from breast cancer. I would never had dreamt creating beautiful pink ribbons for Be Uplifted and that this would be my way to contribute to raising money for breast cancer.

There are not enough words to say thank you. I received both financial and emotional support of which I am totally amazed. I highly recommend this charity to anyone suffering breast cancer.

Thank you Be Uplifted. You have helped my life changing journey with the offer to pay bills when times were tight, food parcels and simple contact and comfort in tough times.

"Many, many thanks for the wonderful comfort basket that Peggy delivered to me this morning. These very many thoughtful and carefully selected and/or sewn with love items, as well as the large home sewn quilt were received with so much gratitude and heart felt love. Obviously organised by some ladies who have been on their own journey, and come out the other side. Words of appreciation seem inadequate. But thanks to all volunteers at Be Uplifted".

Be Uplifted Inc needs our continued support. They really do look after the person and help fill the gaps that many other services miss and for that I am truly and forever grateful.

" I'm so sorry- I have been meaning to write to you to express my sincere appreciation and gratitude for what you and your charity have done. Wendy I am so blown away it has taken some time to process. I understand that I am far from the only woman going through this or has gone through it. I guess I'm stubborn and private and am choosing not to seek out groups for support. But I'm strong. I have support if I choose. Knowing you are there should I choose means so much. Thank you."

To all the wonderful ladies at Be Uplifted. Thank you for the pillows and drain bags I received in the mail. I am so very grateful for your generosity
Boondall Shop
Address:  B1/194 Zillmere Rd, Boondall Q 4034
Telephone:  07 3633 0752
Op Shop hours:  Monday to Friday 10am to 4pm – Saturday 9am to 2pm