A beginning based on two breast cancer journeys
Be Uplifted Inc Breast Cancer Charity was founded in 2009 by two incredibly strong woman, Barbara Zimmerlie and Wendy Paterson, who survived breast cancer together.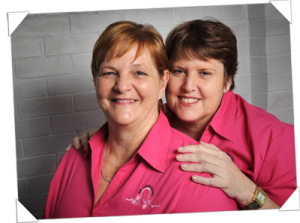 For one, breast cancer required a lumpectomy and for the other, a solo Mum, her breast cancer treatment involved a double mastectomy.
For the solo Mum, who was unable to work and faced financial costs well beyond her means, her friend Barbara rallied to organise fundraisers, and worked hard to assist her meet the unexpected costs of cancer.
Both women survived their breast cancer fight and felt they had been given a second chance at life. They both wanted to apply their energies to assisting other women and their families who were embarking on the same journey. So, in 2009 they registered the charity Be Uplifted Inc.
Be Uplifted Inc has always been about helping people during their breast cancer journey – the motto "people not research" represents the true spirit of the charity, with every volunteer working hard to help those women, men and their families currently affected by a diagnosis of breast cancer.
Initial growth
From the very beginning, Be Uplifted Inc has been embraced by the local community, and welcomed by local hospitals and oncology staff.
Be Uplifted Inc busied itself fundraising and increasing our network of contacts. Each year our breast cancer charity has doubled the amount of money raised, and more than doubled the number of breast cancer patients we have been able to assist.
Initially, services to breast cancer patients were limited. However, as the cancer charity's volunteer base grew, and donations and fundraising increased, so did the services our charity has been able to offer. These have been expanded to include the ad hoc delivery of support services to breast cancer patients on a recipient needs basis.
As the charity grew, Be Uplifted Inc took over a small premises in Geebung, affectionately known as "the Hut". The small building was in fact an ex-Girl Guides Hut, and on any particular day you would be likely to find The Hut crammed with many enthusiastic volunteers, preparing We Care Hampers for breast cancer patients, taking part in weekly craft activities, or getting ready for a breast cancer fundraising event.
A Charity You Can Trust
In 2014, Be Uplifted Inc secured registration as a charity with Australia's charity regulator, the Australian Charities and Not-for-profits Commission – further evidence that our breast cancer charity is a trustworthy nonprofit organisation. As an Australian charity with the Tick of Charity Registration,  Be Uplifted Inc was verified as a well-governed and reputable charity that has the public's confidence.
A Charity Op Shop
In order to increase the financial assistance for breast cancer survivors, and also as another way to support our local community, Be Uplifted Inc opened the Op Shop in Boondall.
Continual Expansion 
In 2017, with The Hut bursting at the seams, it was time to look forward to a bigger facility to house all of the activities of Be Uplifted Inc. And in mid 2017, the charity moved to a larger premises to allow for the continual growth of Be Uplifted Inc.
This new headquarters also contains dedicated areas for breast cancer patients, volunteer services, plus ample space for patient services:
Off-street parking, including wheelchair parking
Wheelchair access
Comfortable therapy areas
Large storage areas for donations
Packing areas for our "We Care" Hampers, craft and other items including our raffle prizes and Cent Auction preparations
Office spaces and administrative areas
Break out rooms for our hardworking volunteers to relax
Large craft rooms
Modern, fully equipped kitchen
Multiple onsite toilets
Volunteers
The number of wonderful volunteers working in harmony to help Be Uplifted Inc achieve its goals has grown to nearly 70. You can read more about what volunteers at Be Uplifted Inc do, and how you can volunteer your time to help breast cancer patients here.
The Future Is Bright
Since our beginning, Be Uplifted Inc has grown rapidly and now helps many, many women, men and families in the Brisbane area as they struggle through their breast cancer journey. Be Uplifted Inc has never turned down a local breast cancer patient seeking assistance.
But the sad fact is many more breast cancer patients need help. Which is why at Be Uplifted Inc we have a long-term vision for a larger, stronger charity that will continue to grow and help more breast cancer patients. And our motto, "people not research", remains at the heart of all that we do.