Help for cancer patients
Be Uplifted Inc came into existence as a consequence of two friends walking their own breast cancer journeys. You can read our charity's history here.
Because of our history, Be Uplifted Inc focuses on the costs of breast cancer.
We all know fellow workers, family members or friends who have walked their own breast cancer journey or are facing it even now.
In recent years there have been a number of charities formed connected to breast cancer and many companies contribute to their nation-wide appeals. However, the majority of these groups focus on research or patient care with minimal assistance being given towards the 'costs' encountered. At Be Uplifted Inc our volunteer-based charity fundraises to help breast cancer patients.
Our breast cancer charity operates predominantly on the north side of Brisbane, never turning away an applicant requesting support or assistance, and we are only limited in the support we can provide by the funds we currently have available.
We are volunteers
Be Uplifted Inc charity is made up of wonderful volunteers dedicated to supporting women and men on a breast cancer journey.
A group of about 70 volunteers dedicate themselves to fundraising, applying for grants, soliciting donations and doing whatever it takes to assist others meet the costs of our recipients that are on this breast cancer journey.
Being run by volunteers, Be Uplifted Inc has very small overhead expenses. We are supported greatly by our local community in regards to our administrative overheads and expenses.
How we help
All of the services and patient programs we offer are aimed at alleviating the unique difficulties or disadvantage faced by breast cancer patients and their families.
The following are some of the support services that Be Uplifted Inc offers to women, men and their families.
We provide a variety of free support services including:
Counselling services for breast cancer patients and their families
Hairdressing services, providing chemo patients with a free haircut when they are losing their hair
House cleaning
Food deliveries
Delivering Christmas Hampers to oncology wards at Christmas
Providing Drain Bags to local hospitals for lumpectomy and mastectomy patients
As well as our regular support services, we offer individual financial assistance and help pay for very practical everyday items like medications, medical tests, food, electricity and phone bills, so that families can still be in touch and supportive even if it's from a long distance.
Because we have limited overheads that we pay for independently, our breast cancer charity guarantees that when you donate to us, 100% of your donation will go back to the families that are on a breast cancer journey.
Resources
August 18, 2020
Foodbank Queensland and Be Uplifted Inc Breast Cancer Charity partner on some charity projects throughout the year.  We love all the hard work and the practical ways Foodbank Queensland supports and helps local Brisbane family's and our breast cancer recipients. […]
December 10, 2019
Be Uplifted Inc has an ongoing partnership and great respect for Foodbank Queensland.  In Queensland, Foodbank provides food and household items to over 540 charity partners and schools. Foodbank is Australia's largest food relief organisation, operating on a scale that makes it […]
July 23, 2019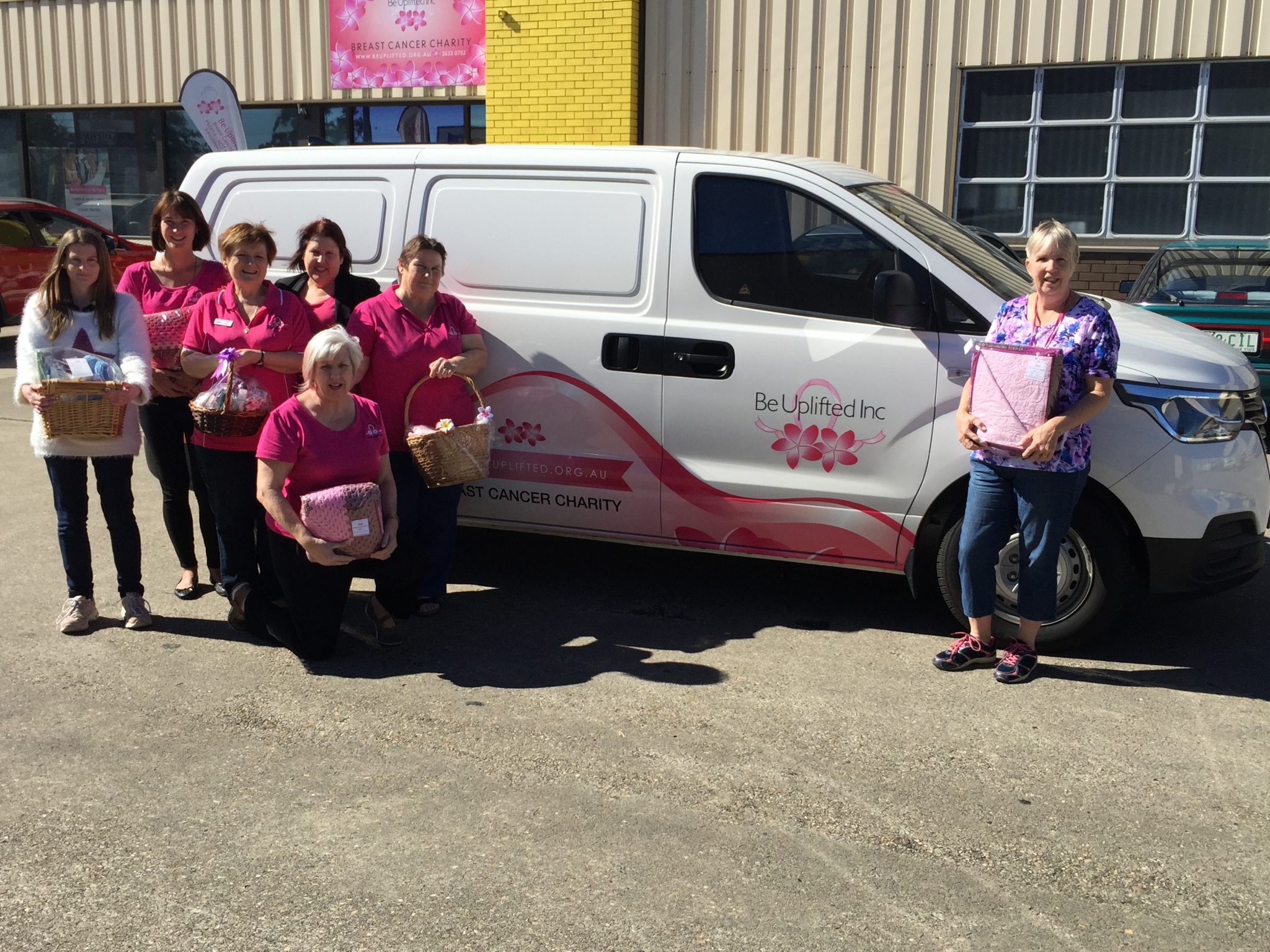 The Geoff Booth Foundation was established in 2009 to direct donations to specific health related charities. The Foundation chose to donate a Hyundai iLoad van to Be Uplifted Inc Breast Cancer Charity north Brisbane in June 2019 for their support […]
March 20, 2019
Wendy Paterson, President and one of the Founders of Be Uplifted Inc Breast Cancer Charity,  offers her services as a Guest Speaker at your next breast cancer awareness fundraiser. Wendy is a breast cancer survivor and has many powerful, personal […]
March 7, 2019
We all need that coffee and chat time every now and then. If you are looking for a local northside breast cancer support group to contact or join, please consider one of the below three coffee and chat groups available […]
December 9, 2018
Swiss Bliss makes catching up with friends relaxing, fun and now with a fundraising purpose this December. For every $50 Pamper with a Purpose gift voucher purchased during December , 2018, $9 will be donated to Be Uplifted Inc Breast […]
November 28, 2018
Did you know there are a range of rebates and concessions available from the Queensland Government to help households to manage their electricity costs? If you have a concession card, give your electricity company a call to see if you're eligible […]
November 28, 2018
Be Uplifted Inc Charity partners with Foodbank Queensland who very generously, every December, donate goods and pantry items. These wonderful donations, create Be Uplifted's Christmas hampers that are delivered to all Oncology wards and given to breast cancer patients at […]