Westfield North Lakes Shopping Centre Raffle Table
October 15, 2019 @ 8:00 am - October 19, 2019 @ 5:00 pm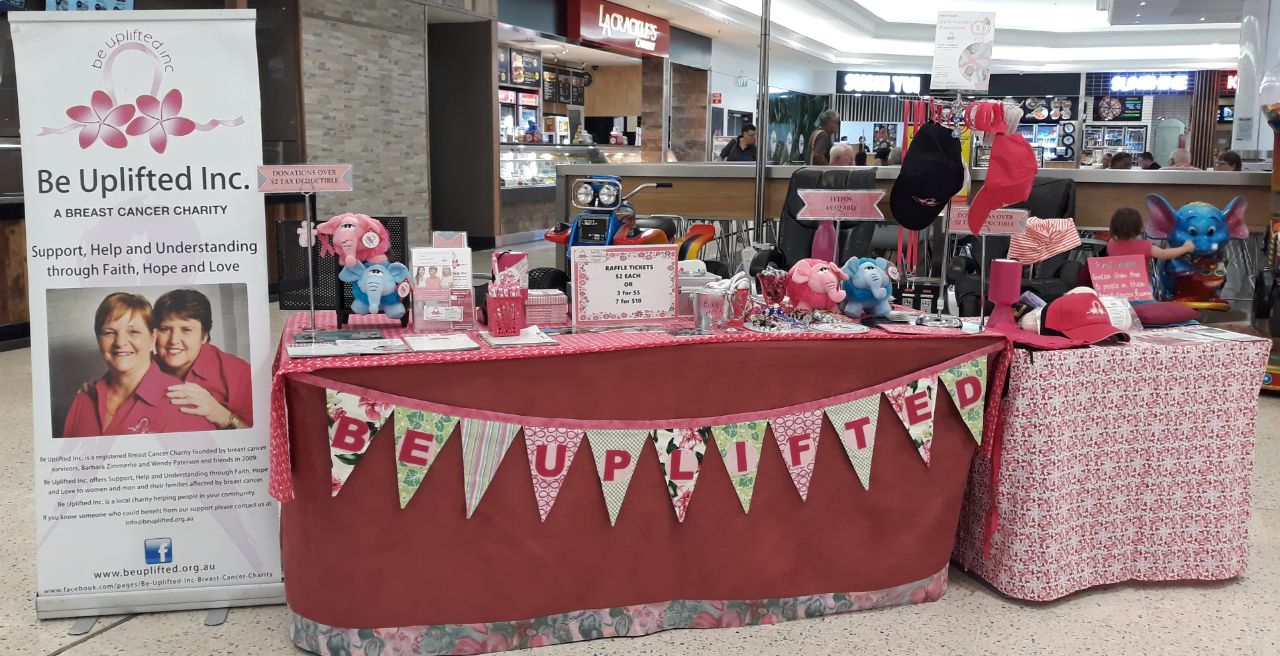 If you are in the neighbourhood, visit the Be Uplifted Inc Breast Cancer Charity raffle table and community display at Westfield North Lakes Shopping Centre.
For many people in the community, our raffle tables are the first contact they have with Be Uplifted Inc, and our proud volunteers offer an invaluable connection and path to information about breast cancer and local support services.
We gratefully receive any loose change donations at our shopping centre raffle table displays!  All donations big and small help us to provide practical and financial support to local north Brisbane people facing a breast cancer journey.
And as always, if you are interested in becoming a volunteer for our shopping centre raffle tables, please be in contact – we love volunteers!
Help us help others
By supporting our events and fundraising activities you are helping Be Uplifted Inc raise vital funds for our breast cancer services in the Brisbane community.
So come along to one of our events, or join in with a friend for one of our regularly scheduled activities like Tuesday Craft Group.
Visit your favourite Be Uplifted Inc Op Shop or take advantage of the Shopnate program for a way donate to Be Uplifted while you shop online without spending any extra money!
Shop online for us!
With its easy to use online shopping platform, Shopnate means Be Uplifted Inc supporters can help us provide more essential services to breast cancer patients.
Visit Shopnate before you shop online at many exciting online retailers like Ebay, Priceline, Adairs, Discount Chemists, Millers, Dan Murphy's, Lorna Jane, Hush Puppies, Crossroads, Bonds – the list is huge! Shopnate with us and you are making a cash free donation to Be Uplifted Inc.